Addiction Psychiatry Online Webinar
Innovative Buprenorphine Induction Strategies
October 22, 2020 11:00 am – 12:30 pm PDT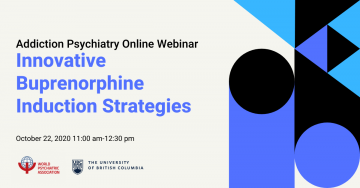 A webinar presented in collaboration by the World Psychiatric Association Section on Addiction Psychiatry and the UBC Addictions and Concurrent Disorders Research Group. Join us for the first instalment of our webinar series. Dr Pouya Azar will speak about micro-dosing buprenorphine for the treatment of opioid use disorder and pain. Learn more about this novel treatment approach, which is becoming increasingly utilized across North America and Europe. Afterwards, Dr Michael Krausz will moderate a discussion with attendees. You will have the opportunity to discuss with colleagues from across the healthcare community.
Speaker: Dr Pouya Azar
Dr Azar is a physician specializing in psychiatry and addiction medicine. He attended medical school at University of British Columbia where he also completed his psychiatry residency. He subsequently completed addiction medicine training at the Saint Paul's Hospital Addiction Medicine Fellowship. He has a special interest in pain medicine, concurrent disorders and adolescent addiction psychiatry. He currently works on the Vancouver General Hospital Complex Pain and Addiction Consult service, as well as through the Saint Paul's Hospital Inner City Youth program where he is the medical director of a group home for youth with concurrent disorders and is currently developing a youth assertive outreach opioid agonist therapy program.